Turnip Rock
One of Michigan's Greatest Natural Wonders
Kayak to Turnip Rock
A trip to Turnip Rock in Port Austin is unmistakably one of the best activities for kayakers on Lake Huron. The trip consists of a 7 mile out-and-back trip via the Point aux Barques trail. The shallow waters surrounding Turnip Rock allow you to get out and enjoy the area as well as snap a few photos while you are there. Be sure to wear suitable footwear if you are going to exit the kayak as the rocks are slippery. For an account of what it's like kayaking out to Turnip Rock, read this adventurer's great story. While this story also goes out to the lighthouse, that leg of the trip is for experienced kayakers only and is reserved for the calmest weather days, as you will be kayaking two miles out into Lake Huron.
Rent a Kayak to Visit Turnip Rock
We recommended a 4 hour kayak rental for the Turnip Rock Trail
Hourly rentals are first come first serve.
Tandem kayaks are not allowed on the trail to Turnip Rock.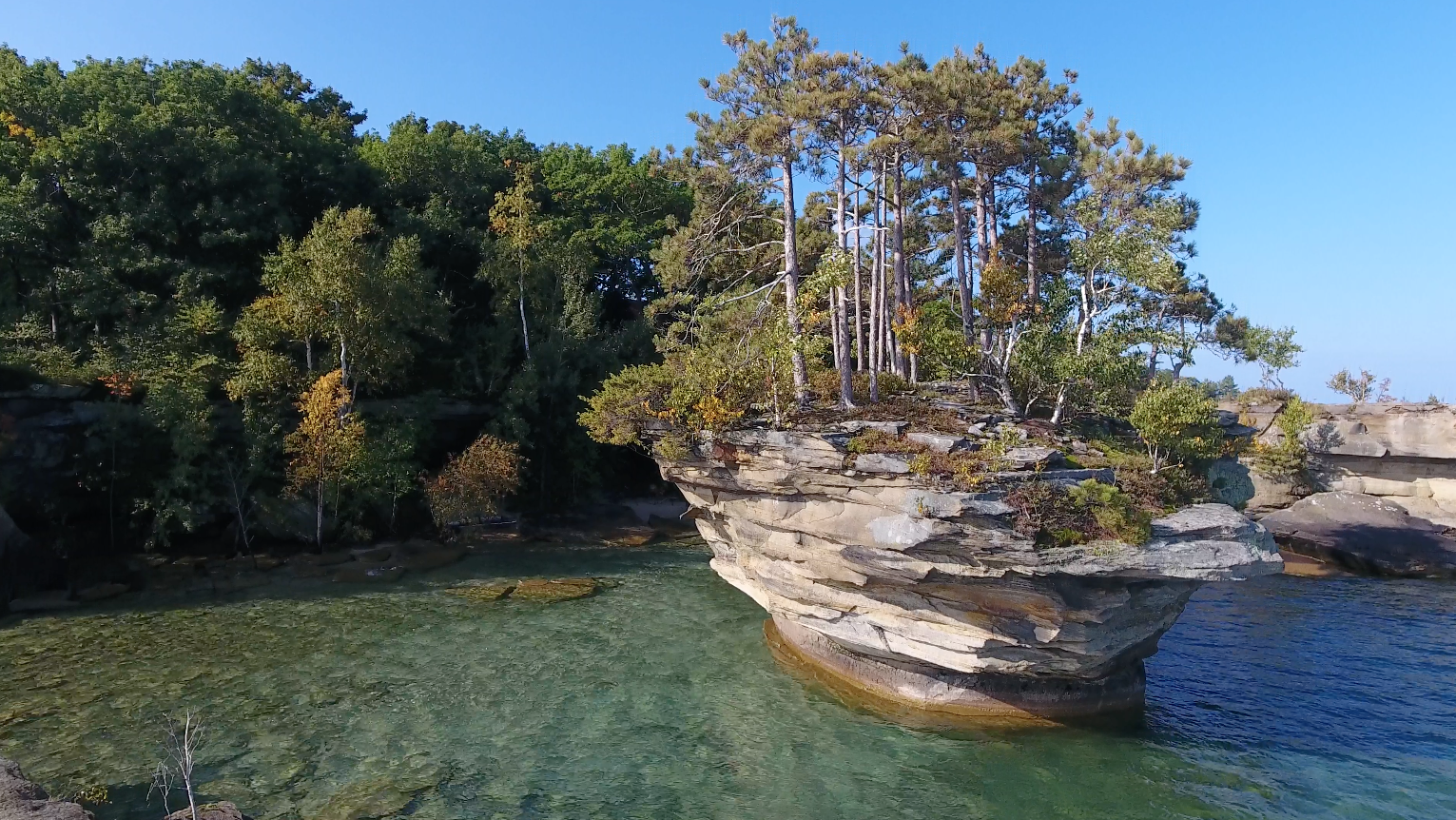 Reserve a Kayak for a full day
If you would like to rent a kayak for a full day, we do have some kayaks set aside for reservation
All reservations MUST be picked up by 11am or they will be released for hourly rentals.
Please be respectful to nature, to property owners, and to other travelers on Lake Huron
The property surrounding Turnip Rock is privately owned, which is why kayaking is the premier way to access the rock.
The owners of the surrounding properties take great care of the land and we ask that you respect their space by not trespassing or littering.
You are allowed to stop at Turnip Rock to rest and have a quick snack but please do not plan to stay and party. The owners of the land around Turnip Rock will ask you to leave.
What are the best places to launch your kayak to visit Turnip Rock?
Bringing your own kayak to paddle out to Turnip Rock? Awesome! We're happy to have you in our community. Please take a little time and visit downtown Port Austin while you're here. Drop by the shop to check the latest lake & weather conditions, grab a bite to eat at our cafe and beer garden, or shop our store.
Launch From Our Shop
Drop by and say hi, grab a bite to eat, or check the weather conditions and we can launch you right out our back door.
1. Bird Creek County Park
Bird Creek County Park has lots of parking, bathrooms and showers and a nice sandy beach.
2. Port Austin State HarboR
Another good place to launch is the State Harbor in Port Austin. You will need a State Park pass.